It is always great when we are able to give back and share with the community. Recently Alpha Sports was able to work with Make A Wish to help provide a day of paintball play for a great young man. We wanted to take a moment and share the letter we received from Make-A-Wish and some pictures from that day.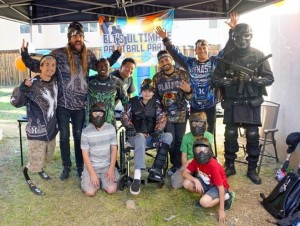 Letter:
Alpha Sports; I hope that this email finds you well! I wanted to follow up and share some pictures with you from Elijah's paintball wish! He loved the bunkers! It was a great day for him and his family, he even played with Ryan Greenspan from the San Diego Dynasty team. Elijah had a constant smile on his face. Due to it being in his backyard, they played with smaller scale markers, but he is excited to play with the real deal once he is feeling all better. I hope that you enjoy the pictures! We appreciate what you and your staff were able to do. Thank You again.
Alpha Sports would like to thank Make-A-Wish for all they do for great people like Elijah.