Airmen representing the 576 Flight Test Squadron took some time off Friday for a team-building exercise they are not likely to forget.
Paintball was the chosen activity, and it was clearly a winner.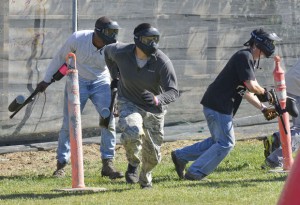 "We're out here for unit morale day, essentially," said Tech. Sgt. Jonathan Carter, president of the Unit Advisory Council and event organizer. "I'm doing pretty good. I've only been hit in the leg once, though."
Carter explained that the Unit Advisory Council tries to put together at least one event per quarter, and this time they selected River Park Paintball Field, just outside Lompoc's city limits, for their quarterly activity.
"With the exception of going into Santa Maria last month, I haven't done any paintballing for a few years," Carter said. "But this field is actually pretty awesome. I enjoy it a lot out here and from what I've seen with a lot of people, they seem to like it here, too."
The participating airmen set up several canopies alongside the paintball field and also served hamburgers fresh off the grill. Friends and family were invited, too.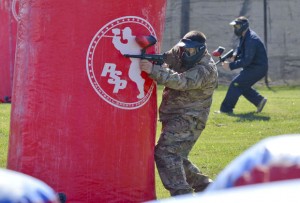 "They talked to me for about a month and a half to book the party," said Audrey Mosby, representing the paintball field. "They have lots of family here, as you can see, and that's what the barbecue is for, for everybody to come in and have a social day here."
Mosby said she was more than impressed with how organized the airmen were.
"They seem to follow the rules for the most part and they are very respectful," she said. "It's awesome."
Apparently, the airmen got a good deal, too.
"I made them a really great deal because we're patriots," she said.