Some 10,000 people from around the world applied for a job as a professional human paintball target in Britain. UK Paintball said it was astonished by the number of applicants for the role, which pays £40,000 (approximately $61,000 U.S.) per annum.
The company said that applicants had been attracted from as far away as the U.S., Canada and India.
"This incredible response is the last thing we expected when we posted the advert," said UK Paintball owner Justin Toohig. "We couldn't have predicted that so many people in the UK and beyond would want to get shot for a living."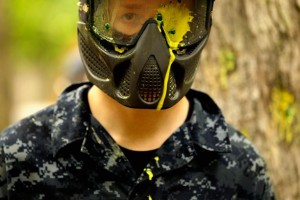 The job advert on the company's website says that for those with a "relatively high pain threshold" then "this might just be the opportunity for you".
It goes on: "Here at UKPaintball.co.uk we are currently looking for someone to join the team and become our official 'bullet tester'.
"The job will essentially involve being shot at with every new batch of paint bullets to ensure that all health and safety checks are in place, before we can use them on the general public and paying customers.
"Whilst the checks will of course be carried out by trained professionals with a wealth of experience, the role may pose a small risk of pain, discomfort and some bruising."
Toohig said that applicants had given a range of reasons why they were suited for the role.
"We've had individuals hoping to secure the job including an ex-Army soldier boasting previous experience of guns and weaponry, a paintballing enthusiast who has indulged in his hobby all around the world, and an ex-magician's assistant who was once almost shot for real in an illusion that went horribly wrong," he said.
"It's going to be a real struggle attempting to whittle down the thousands of applicants to just one. We have been so incredibly inundated with amazing candidates wanting the job that we are now considering an X Factor-style bootcamp for the a final 10, to see just who can handle being shot for a living."